This post was featured at :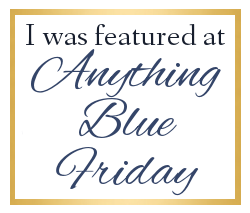 Each holiday, each season provides a new opportunity to re-style my mantel. This huge all-white space lends itself perfectly to all colors and styles. And as we're in the midst of the "flag" holidays - Memorial Day, Flag Day, the 4th of July - I've re-styled my mantel to fit all three.
Nothing pops against white quite like red, does it?! So many seasons lend themselves to the decorative use of red - Christmas, Valentine's, the 4th of July. Even summer - as I'll probably use this wire basket and Mason jars along with the red flowers even after Independence Day.
I also think I'll find many, many uses for my clipboard easel throughout the year, but for now I love that it holds a picture of Old Glory.
Found these little books (actually storage boxes) at Michael's this week - wouldn't it be fun to read a book - or blog - about enjoying the little things. Perhaps that's what many of our blogs really are about!
Do you enjoy decorating your mantel for the seasons? My sister-in-law Linda recently told me, "I've started decorating my mantel for every holiday after seeing what you do with yours." So glad she's joined the fun!
Keep Decorating ~
Mary
Sharing at: